✓
Success
We received your quote request;
we'll be in touch shortly!

To our valued customers:
We have been continually monitoring the situation regarding the COVID-19 crisis, and we have been adapting our business practices on an ongoing basis. We are still open and providing airport ground transportation to/from the major airports from Toronto Pearson/All FBO's, Billy Bishop/City Centre Airport, Hamilton Airport, London Airport, Buffalo Airport and Niagara International Airport. We are also providing all Point to Point services. All of our vehicles are being cleaned and sanitized frequently throughout the day and after each trip in order to ensure a clean and safe environment. All of our vehicles are equipped with Hand Sanitizers and Disinfecting Wipes.


Airport Limo offers affordable Airport Limo transportation from Oakville to Toronto Pearson airport, Billy Bishop airport, and Buffalo airport. We provide Taxi service to Toronto, Mississauga, Hamilton, Niagara, New market, and Oshawa areas as well.
Oakville Taxi Service
Airport Taxi abide by the flat rates as set by Greater Toronto Airport Authority, and obey all rules and regulations of City of Toronto and City of Oakville.
Route from Oakville to Toronto Airport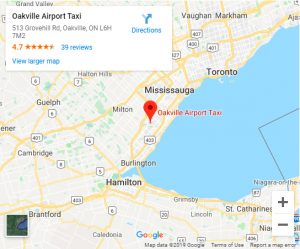 Oakville Airport Limo Services
– Oakville Airport Taxi
– Oakville Airport Limousine
– Oakville Airport Shuttle
– Oakville Airport Van
– Oakville Wedding Limo
– Oakville Corporate Limo
– Oakville Night Out Limo
– Oakville Casino Limo
– Airport Taxi Oakville
Toronto Airport pick-up procedures:
1. Clear Customs
2. Pick-up Luggage
3. Go to Commissionaire at the Pre-arranged Stand. Ask him to call Airport Limo from the compound. Your Limo will arrive in 2 minutes.
Toronto Airport Pre-arranged Stands:
Terminal 1 – Post A
Terminal 3 – Post 7
NOTE: In the event your flight arrives after 12:00 midnight, Commissionaire may not be present. In this case, please call our dispatch office at 905-337-3903 and we will send you your limo from compound at any time. Airport Limo dispatch office open 24 hours a day, 7 days a week to assist you.
Call us at 905-337-3903 to book Oakville Airport Taxi
Oakville Airport Taxi
Address: 513 Grovehill Rd, Oakville, ON L6H 7M2
Phone: (905) 337-3903
Oakville Airport Taxi
airport shuttle service, airport limo, airport taxi, airport shuttle, Oakville airport taxi, Oakville airport limo, limo service, taxi service, airport limousine, limo to the airport, shuttle to airport, taxi to the airport, Toronto airport taxi, Toronto airport limo, limousine service, taxi services
Address :
513 Grovehill Rd,
Oakville,
ON –
L6H 7M2
Canada.
Tel : (905) 337-3903
Email : [email protected]